Library Governance
Idea Exchange is a municipal tax-supported institution operating under the Public Libraries Act and administered by a volunteer board of Cambridge residents. Board members are appointed for four year terms which are concurrent with the term of City Council.
---
Cambridge Public Library Board - 2023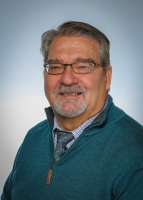 Thomas Sandor - Chair and Fundraising Chair
Thomas has a lifelong passion for learning, literacy, and sharing his management knowledge with not-for-profits, specifically within the world of libraries. Tom was a member of the Governor General Romeo Leblanc's Literacy Board and the Stittsville Library Board in Ottawa. He joined the Idea Exchange Board after moving to Cambridge in 2016. His past roles on the Idea Exchange board include Co-Vice Chair and Fundraising Chair. Tom also sits on the Ontario Library Association Board of Trustees, the Ontario Library Board's Association as Vice President (President- elect in 2023) and the Ontario Library Services Board Assembly.
Before Thomas's early retirement in 2005, his extensive business background included senior management roles with P&G, Ericsson Communications, Harris Computers, Rogers Communications, NCR Canada, Andersen Consulting, and Descartes Systems, and Dutch Postal Authority.
Thomas and his wife, Karen, have two sons and a total of seven grandchildren living in the area.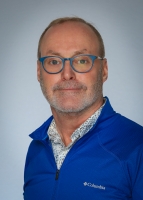 Robert Oswald - Co-Vice Chair
Robert retired after spending close to 35 years in the banking industry. His areas of expertise include commercial and personal risk management, human resource management, and in leading large teams to deliver best-in-class financial assistance to clients from large centralized contact centers. In his last role, he had national responsibility to assist clients financially impacted by large economic distress or natural disasters events (e.g. the Fort McMurray wildfires).
With extensive roots in the Waterloo Region, he has been a resident of Cambridge for over 20 years. Robert is a returning member of the board, having served for eight years, with three years as board chair. In his spare time, he enjoys hiking, cycling, tennis, and travel.
Robert graduated from Wilfrid Laurier University with a Bachelors of Business Administration. He studied at the University of Toronto and was awarded a Fellowship designation from the Institute of Canadian Bankers.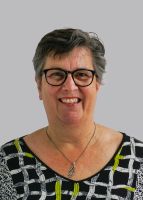 Colleen Bulla
Colleen moved to Cambridge with her family over 30 years ago. As an avid reader, she was delighted to learn her local library branch is walking distance from her home.
Now retired, Colleen's career was varied. She worked in vocational rehabilitation, helping people return to work after accident or injury; as a youth employment counselor; as an HR manager and finally as a travel advisor. She is a passionate traveller.
She currently is on the board of Homer Watson House and Gallery, on the Patient Advisory Council and the Quality Committee of Cambridge Memorial Hospital, and volunteers at Innisfree Hospice.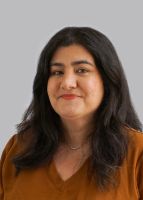 Yasmine Kashefi
Yasmine, a Cambridge-based Management Consultant, thrives on delivering results and propelling progress. As an avid learner and reader, she treasures her library card and considers it one of her most important assets.
Beginning her career in public relations and digital marketing, Yasmine transitioned into strategy consulting, collaborating with industry leaders in technology, pharmaceuticals, and non-profits. She holds an MBA from the University of Toronto's Rotman School of Management and a BA in Psychology from York University.
In her spare time, she enjoys reading, painting, and exploring Ontario's scenic parks and trails with her husband and daughter.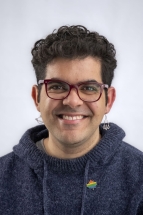 Jose de Lima
As a proud Cambridge resident and passionate explorer of literature, Jose is enthusiastic to serve on the Library Board of Trustees. He is a front-line social worker with experience in anti-oppressive practice, youth engagement, political activism, and community organizing.
Through his work in the community, Jose has developed his love and admiration for an accessible and community-driven public library. Both Jose and his partner are avid readers and enjoy the literary and architectural journeys that are part of the public library experience in Cambridge.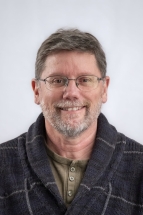 Kirk Oliver
A life-long library lover, Kirk is a recently retired Chartered Professional Accountant (CPA). Prior to his retirement, he was the Chief Financial Officer for the largest supplier of materials for libraries in Canada. Kirk has been involved with the Idea Exchange's Visiting Library Services since 2018.
Besides reading, his passions are cooking (he makes a great lasagna), yoga, running, hiking with his dog on the nearby trails, and his family (especially his two grandchildren).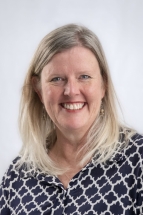 Sarah Wilbur-Collins
A resident of Cambridge for more than 20 years, Sara is the Executive Director of The Riverwood Conservancy. In addition to having earned a Bachelor of Arts in Music and a Master's degree in Conservation Leadership, she also holds the Certified Fund Raising Executive designation. Sara's two daughters grew up at the Preston location of Idea Exchange, and she still visits at least once a week. In her spare time, Sara is a passionate reader, and enjoys paddling the Grand and other rivers.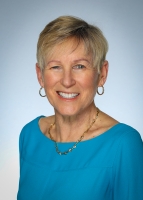 Janice Woynarski
A passionate member of Idea Exchange and deeply invested in community engagement, Janice is excited to lend her skills to this dynamic and progressive community hub.
Janice holds a BSW from McMaster University and a MSW from Wilfrid Laurier University. Past work and appointments include: teacher at the University of Waterloo, School of Social Work, Renison College; chairman of the Social Services Program Advisory Committee, Conestoga College; social worker at Community Mental Health Clinic, Cambridge Memorial Hospital; and board member for Cambridge & North Dumfries Community Foundation, Cambridge Non-Profit Housing Corporation, and the Cambridge Women's Shelter.
With a love for activity and the outdoors, Janice enjoys cycling, skiing, golfing with her husband, and travelling to visit her two daughters, who live abroad.
---
Board Minutes
The 2023 Board meetings are held monthly on Wednesdays at 4:30 pm at Queen's Square on the following dates: January 25, February 22, March 22, April 26, May 24, June 21, August 16, September 27, October 25, November 22, December 13.
Residents and community association representatives may attend and address the Board as a delegation at any Regular meeting. Delegations wishing to address the Board of the Cambridge Public Library must advise the CEO in writing of their intent at least four (4) days prior to the Board meeting date. For delegations that wish to speak at the meeting, please include the topic, speaker's name, and contact information.
The latest approved minutes are available here.
Minutes from the September 27, 2023 Meeting [PDF]
Minutes from the August 16, 2023 Meeting [PDF]
Minutes from the June 21, 2023 Meeting [PDF]
Minutes from the May 24, 2023 Meeting [PDF]
Minutes from the April 26, 2023 Meeting [PDF]
Minutes from the March 22, 2023 Meeting [PDF] 
Minutes from the February 22, 2023 Meeting [PDF]
Minutes from the January 25, 2023 Meeting [PDF]
Minutes from the December 14, 2022 Meeting [PDF]
Minutes from the November 23, 2022 Meeting [PDF]
Minutes from the October 26, 2022 Meeting [PDF]