June 23, 2023 - September 10, 2023
Queen's Square Gallery
---
Curated by Karly Boileau
Wanderings and Traces is a solo exhibition featuring the work of Canadian artist Amanda McCavour. The exhibition spans three locations across Cambridge Art Galleries and Idea Exchange. Inspired by memory, environment, colour, and line, McCavour manipulates thread and wire to create large-scale sculptural drawings unbound from a two-dimensional surface. The result is a dreamlike and immersive experience for visitors to walk through, around, and underneath. In a moment of mutual symbiosis, our presence within the work completes the drawing McCavour started for us. From botanical motifs to spirographs, McCavour's work is a playful refuge from the rigours of the everyday. With installations in Galt, Hespeler, and Preston, Wanderings and Traces creates a visual thread between Cambridge communities, celebrating the moment and our collective experience in the here and now.
On view at Queen's Square Gallery: Pink Field Blue Fog (2016 - ongoing) and Sample Wall (2007 - 2023)
On view at Idea Exchange, Queen's Square lobby: Bloom (2022)
Other installations by Amanda McCavour on view at Idea Exchange, Hespeler and at Idea Exchange, Preston.


Wanderings and Traces is supported by The Musagetes Fund held at Waterloo Region Community Foundation.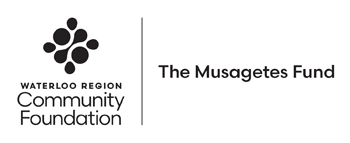 ---
Artist Biography: Amanda McCavour is a Canadian artist who works with stitch to create large-scale embroidered installations. McCavour holds a BFA from York University where she studied drawing and in May 2014, she completed her MFA in Fibers and Material Studies at Tyler School of Art in Philadelphia, PA.  McCavour shows her work in galleries nationally and internationally with recent solo exhibitions in Ottawa (ON), Virginia Beach (VA) and Vancouver (BC) and has completed residencies at Harbourfront Centre's Textile Studio in Toronto, and the Klondike Institute of Art and Culture in Dawson City, Yukon. She has received numerous awards and scholarships from the Ontario Crafts Council, The Canada Council for the Arts, The Handweavers and Spinners Guild of America, The Ontario Society of Artists, The Surface Design Association and The Embroiderers Guild of America. In 2023 McCavour's work Ode to a Prairie, was selected as a winner for the David Suzuki Foundation Rewilding Art Prize.
Artist Statement: In my work, I use a sewing machine to create thread drawings and large-scale installations. By sewing into fabric that dissolves in water, I can build up stitched lines on a temporary surface. The crossing threads create strength so that when the fabric is dissolved, the thread drawing can hold together without a base. With only the thread remaining, these images appear as though they would be easily unraveled and seemingly on the verge of falling apart, despite the works raveled strength. I am interested in thread's assumed vulnerability, its ability to unravel, and its strength when it is sewn together. Through an exploration of line and its 2D and 3D implications, stitch is used in my artwork to explore various concepts such as connections to home, the fibers of the body and more formal considerations of thread's accumulative presence. I explore embroidery's duality- it's subtle quality versus its accumulative presence and its structural possibilities versus its fragility. Through experimentation and creation within my studio, I continue to investigate line in the context of embroidery, drawing and installation.
The artist would like to acknowledge the generous support of the Canada Council for the Arts and the Ontario Arts Council.