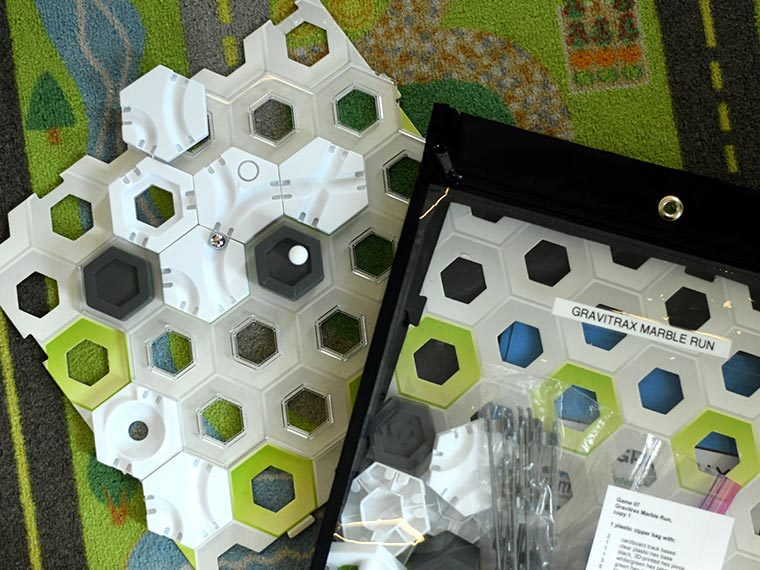 Learning through play is essential. The PlaySmarts Toy and Game Collection at Idea Exchange makes it accessible for every family, at any time. Borrow some toys and games before you buy them at a store and see if they resonate with your children before spending any cash. Homeschooling or babysitting? Get something fun and educational to liven up your lesson. We have enough resources for you to change it up every week.
The collection includes games, puzzles, and other items that were carefully chosen to help you get the most out of playtime. Some toys and games are unique to this collection, having been created in the Old Post Office Makerspace. The collection has recently expanded to live at all Idea Exchange locations and more resources are being added all the time. Come and explore!
The PlaySmarts Toy and Game Collection highlights different themes and concepts to discover:
Sing and Play Do… Re… Mi… Music, sound, song, rhythm, and rhyme are fun, creative and expressive ways to learn and grow. Try out these resources alongside some music albums and books about musicians and performers for a complete learning jam session.
Sense Squish! Pop! Rattle! Senses are our gateways to the outer world. These resources focus on providing safe and soothing sensory experiences. Resources exploring taste and smell aren't something we've got, though, so bake some cookies to complete the experience!
Move  Like our active living collection, these resources are designed to get you moving, but with a developmental and social focus. Exploring how to move and play together is important not only for motor skills, but social skills as well. Tag! You're it!
Talk and Listen Learning how to speak clearly, ask for what you want in a way that will get it, and listening to others in active ways are all important abilities. Many of our PlaySmarts resources develop speaking and listening in concert with other important skills.
Read Playing with words and letters is fun! These resources offer great activities for anyone learning English for the first time or just looking to level-up their vocabulary. Borrow some alongside one of our Read the Rainbow literacy kits for days and days of fun.
Think This collection of both high- and low-tech games, toys, and puzzles offers learning experiences to build logical thinking and computer skills. Try these as a family with some robotic reads from our book library and why not borrow a video game, too.
Count Numbers and fractions and shapes –oh, my! These resources put into action different topics from Ontario's grade school Mathematics curriculum. From learning to count, to learning how to tell time and make change at the store, this collection brings math to life.
Explore From the human body to the natural world and outer space, these toys and games will tickle your curiosity and satisfy your inner scientist. Try these after attending one of our "STEAMy" (science, technology, engineering, art, math) children's programs.
Feel This collection offers different games and resources to help children explore their inner worlds of thought and emotion. Mindfulness and empathy are important skills for all of us. Explore these resources along with titles from our booklist on the same themes.
Build and Imagine Whether building a train set or playing doctor these items are designed to fire the imagination and get your creative juices flowing. Looking at what is and imagining what could be is maybe the most important skill there is –and we can all do it. Go get creative!
Or simply check out the whole collection
Play on!