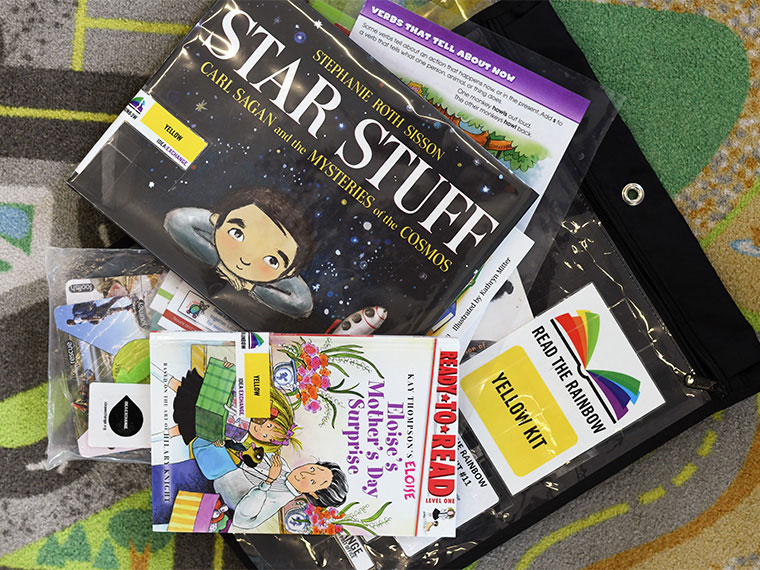 Launched in Summer 2019, our Read the Rainbow levelled literacy collection has been wildly successful. Since the onset of the pandemic, it has also become a boon to caregivers suddenly responsible for homeschooling.
Read the Rainbow kits gather together books, learning games, audio resources, and dry-erase practice sheets into handy zipper bags for members to borrow. All the material in a kit uses language at a similar complexity level --from sight words and phonics at "Red" through to full sentences, paragraphs, and richer vocabulary at the "Green" and "Blue" levels.
Read the Rainbow complements popular literacy development programs at school or elsewhere, but offers content that is different enough to be engaging for young readers. Featuring books by your kid's favourite characters or authors, the kits contain a mix of fiction and non-fiction titles. Every kit is unique, so readers can build confidence by exploring several kits at one level before moving on to another. What unites the materials in each kit is a similar level of language complexity. Read the Rainbow aims to make the literacy journey more accessible and fun for caregivers to explore with their kids.
We encourage readers to "jump in and jump around!" For example, if your reader is four years old, pick up an Orange kit to explore. If it's too difficult, jump to a Red kit. Too easy? Jump to a Yellow kit. All levels have over a dozen kits to explore with different titles, toys, and practice sheets. Allowing young readers to self-assess their progress as they explore the collection and develop their literacy skills can be very empowering.
Beyond the kits, there are well over a thousand Read the Rainbow classified individual titles that can be found in our catalogue. Just place your requests and you'll be notified when the items are ready to pick up.
Finally, we recently added more kits at each location plus a new Violet level for readers approaching fluency. Each Violet kit contains the first several volumes of a popular "easy" chapter book series - no more waiting for volume two! Each kit also contains a chapter book proper with an accompanying audio recording in the form of a Playaway - just add earbuds for a rich read-along experience. These kits are designed to encourage binge reading and act as a bridge to exploring children's literature.
View the kits at each level below...
We welcome any feedback, comments, or suggestions on the collection. Enjoy!