The Makerspace is located on the third floor of the Old Post Office. It is a hands-on creative space for members to invent, collaborate, and design as they transform their ideas into reality.
A full teen or adult Idea Exchange membership and a signed waiver is required for equipment use.
Contact the Old Post Office at 226-533-2767 with any questions or to make a reservation.
---
Makerspace Equipment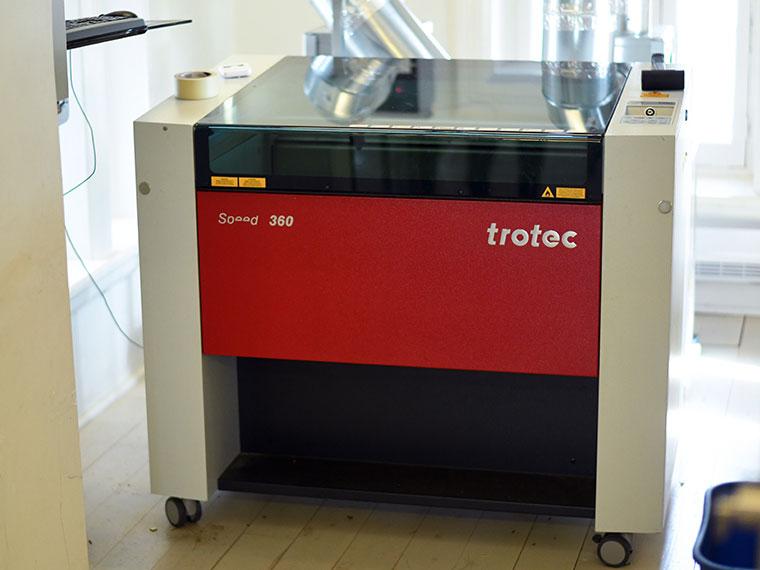 Temporarily Out of Service for Repair
The laser cutter is a computer controlled cutting machine. Designs created on your computer can be cut or engraved into material such as wood, glass, fabric and more. Use the laser cutter to make custom signs, engraved cutting boards, engraved glassware, architectural models, 3D puzzles, and more.
---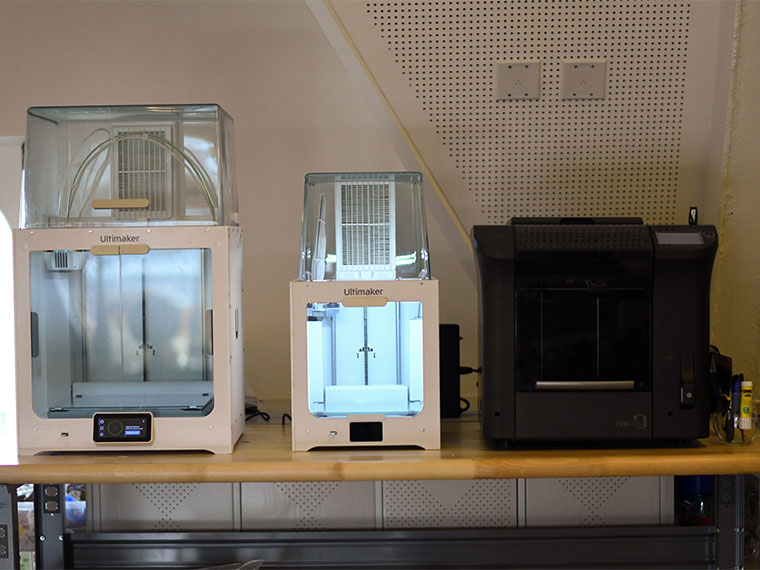 With our 3D printers, users can design and create real items, including prototypes. These 3D printers lay down material, layer by layer until the full design is rendered. Our members have created jewellery, ornaments, and more.
---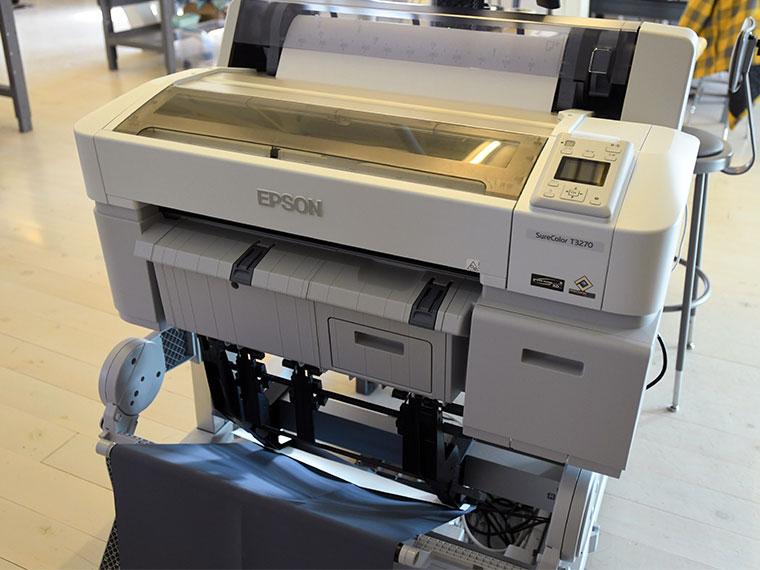 Print posters, collages and other designs up to 24" wide with our archival quality, large format printer. Select from a variety of paper types to make your art and photographs.
---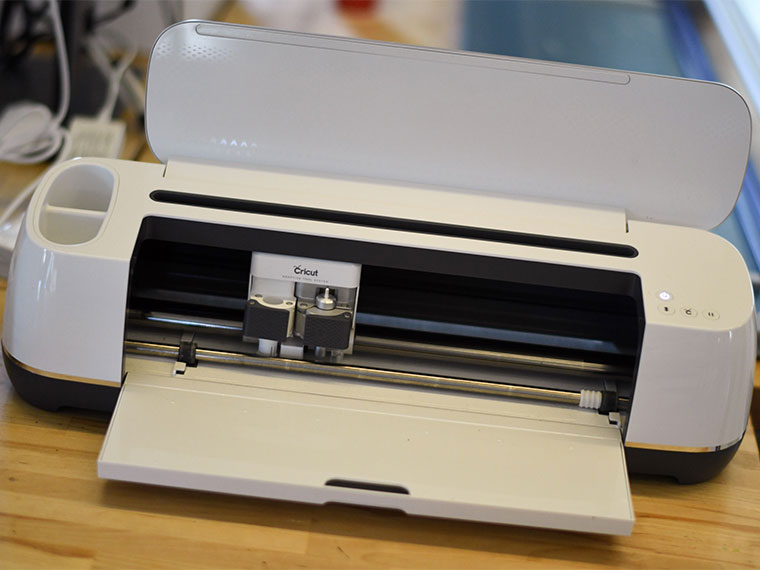 Idea Exchange has a variety of Cricut machines and Cricut tools available for our members. Use our Cricut Design Space Software to access 1000s of beautiful pre-made projects or to design your own. Make custom greeting cards, t-shirts, mugs, and more.
---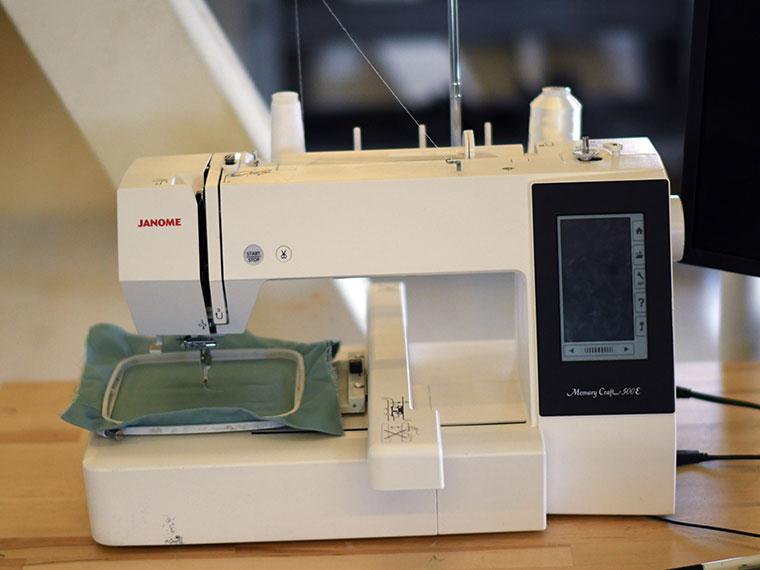 This machine makes it easy for you to personalize and monogram many different items. The Janome Memory Craft 500E comes loaded with preset images and fonts that you can choose from, with an easy to use touch screen panel. You can even make your own designs using the Artistic Digitizer software. We have many different colours of thread, and various sizes of embroidery hoops, including a hat attachment, to do both big and small projects. All you need to bring is the fabric or item you want embroidered.
---
More Makerspace Equipment
---
Makerspace Pick-up Service
Note: Pick-Up Service is now paused for 2022 except for very simple 3D printing projects.
The holiday season is upon us and our makerspace is a busy place with very high demand on the equipment. To allow staff to complete current pick-up orders in a timely manner and provide support to those in the space we are pausing our pick-up services until early in the New Year. We apologize for the inconvenience.
Please consider calling us at the Old Post Office to book time with our equipment if you would like to complete a project.
How Do I Use the Makerspace Pick-up Service?
Note: Only very simple 3D printing projects will be accepted for submissions until early in the New Year. Check back here to see when this service has resumed.
To submit projects, you will need a valid Idea Exchange membership and then follow these five steps:
Step One – Create your Design File

For all projects, include any and all instructions in a readme file, a printout, or in the email.

We will accept the following types of design files:

3D printing

The file extension must be one of the following: .stl or .obj

Please note:

Design files must be complete. Staff will not design projects.
Idea Exchange reserve the right to refuse incomplete designs.
Quality of finished product will vary, depending on quality of design submitted. Idea Exchange is not responsible for any manufacturing defects in the quality of workmanship or materials inherent in any of the tools or equipment.
It is the member's obligation and responsibility to determine and satisfy copyright, patent, trademark or other use restrictions. Idea Exchange is not responsible for violation of intellectual property laws.
Idea Exchange reserve the right to refuse any projects that violate our policies, are unsafe and/or are unlawful.

Step Two – Submit your Design File

Members can submit design files to oporeception@ideaexchange.org or drop-off USB and materials to the Old Post Office during opening hours.
All materials submitted must be labelled and include your:

First and last name
Telephone number and email address
Idea Exchange membership number
Complete instructions for build

A maximum of three (3) jobs per member will be accepted per week.

Step Three – Wait for Staff to Contact You When the Job is Complete

Staff will produce designs and call or email you when the job is complete.
Most jobs are completed within seven (7) days. Larger jobs may require more time. Completion times may also vary due to volume.
If longer than seven days is required to complete a job, Makerspace staff will contact you to arrange timing for job completion and for pickup. 

Step Four – Pay for Material Costs

For curbside pickup, any material costs incurred must be paid for by credit card in advance
In-person pickup can be paid at the reception desk by cash, credit card, or Interac
Material costs are as follows:

Step Five – Pick Up Your Completed Project

To pick up your Makerspace project or kit, please enter the building through the main entrance doors and speak to staff at the first floor Reception desk.
For contact-free pickup, call 226-533-2767 during open hours and staff will bring your items to the door.
---